Lift and Tint    A lash lift is like a perm for your eyelashes. A lash lift simply alters the shape and color of your natural lashes. Eyelashes tend to grow out, rather than up. however, upward-growing lashes will give a more cosmetically pleasing appearance. The treatment involves boosting and lifting each individual lash, before tinting them for thicker, darker, longer looking lashes. Results of a lash lift and tint last about six to eight weeks and there is no damage to your natural lashes.
Lash Extensions:
Types of Lash Extensions
Classic  Classic lashing is a technique in which a single extension is applied to one, isolated natural lash. Classic lashes are perfect for adding length and some fullness to your natural lash line. Classic lashes will give the appearance of wearing mascara. Classic extensions last up to 4-6 weeks, however to avoid them looking patchy we recommend a fill in after 2-3 weeks to keep lashes looking full and uniform.
Hybrid
  Hybrid lashing, or a "hybrid 
 set" are when classic and volume lash extensions are mixed throughout the same lash
set. Since both classic and volume techniques are used as a combo, you achieve a fuller and more texturized and dramatic lash
 line than a standard classic lash look.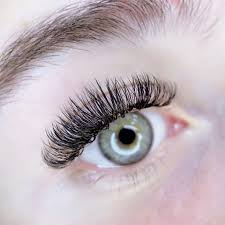 Volume  
Volume Lashing is a technique used to achieve a fuller, fluffier look. With this method, anywhere between 3-8 super fine extensions are fanned out and applied to a single natural lash. This is the perfect solution if you have sparse lashes or gaps. Our lash stylist will create a fan, customized to you, in a variety of ways.